Customer Service is one of those topics that's hard to define as a culture. We each have our own version of what's good customer service, excellent customer service or superior customer service or any other trending phrase for customer service. I've had the opportunity to reflect on customer service over the past week through a hospital experience. My mother came to visit me in Tampa, FL for ten days. However, on day three of her visit, she unexpectedly experienced a hospital stay for 4 nights/5 days - which included a smattering of medical tests and, ultimately, surgery to remove her gall bladder.
Our experience really got me thinking about what I expect as great customer service and what was expected of me as the customer. Some would say we had great customer service; but by other standards, some would say we didn't. From my experiences, I have high standards for what can be called excellent customer service - and I don't apologize for it. Although I don't always meet my own standards (a diagnosis of unrelenting standards is another post for another time), I do live by the same expectations when I'm providing customer service. I'm disappointed in myself when I don't provide it, just as I am disappointed in others when I don't receive it. Through our experience, questions surfaced: does my involvement as the customer help to define great or excellent customer service? Do I need to be an active participant or does my being active take away from getting excellent customer service? At one point in our stay, I was told that I need to be a squeaky wheel and it's ok to squeak when needed. My thought is that if I need to squeak, then something is not quite right with the expectations of customer service. If it's self service, it's not customer service - or is it? Thoughts to ponder.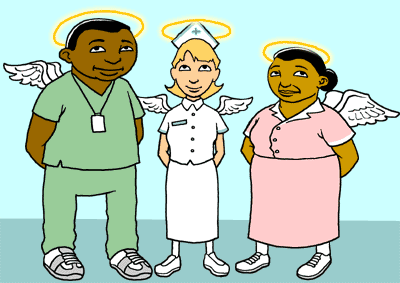 Over the 5 days, we had contact with an army of nurses, nurses assistants, doctors and a variety of other medical professionals. Of these, two nurses stood out the most with providing top notch customer service:
ER Nurse - Rob was the ER Nurse when we first entered the hospital. We were nervous and quite anxious. He had a big warm smile that never left his face while he was talking to us. He was also what I call "deep south" friendly; which for me translates as warm and overly friendly. He quickly found a common ground with my mom - she has lived in Tennessee for the last 35 years and he had grown up in Tennessee, not far from her current home. He continued to find commonalities and also quipped jokes that helped eased our fears. He did all of this while keeping us informed on what he was doing, why he was doing it and then the results of what he found. I must also say that this was the best and fastest ER experience that I've ever had. This hospital knew how to manage an ER and get to the bottom of what was needed for next steps. Kudos to Memorial Hospital of Tampa! Now back to Rob as part of this great experience. He provided calmness and allowed us to be as comfortable as possible under the circumstances. By my high standards, Rob provided excellent customer service. Thank you Rob.
Day Shift Nurse - Meghan was assigned to us two of the four days. In my book, she was fabulous and hit the mark every time. There were many traits that Meghan exibited, but the two that warmed our heart the most were her credibility and patience. She did what she said she was going to do - and she did it every time! I understand unintentional errors or accidental forgetfulness, but it didn't happen with Meghan. We didn't have to follow up with her or go hunt her down, she followed through on everything. As to patience, my mother and I had a lot of questions and not once did Meghan make us feel like we were a hinderance or bother to her. She understood our questions, encouraged them, answered them and/or directed us how to ask the doctor when he came in to see us. She also followed up with us to make sure that we asked the questions after the doctor had visited. I expected the former, but the latter was above and beyond my expectations. By my high standards, Meghan provided excellent customer service. Thank you Meghan!
In reflection, there were many opportunities for excellent customer service this week. We received service from all of those which we interacted. Some provided good, others great and then there were those with excellent service. For those that provided excellent service, what stood out the most was that in addition to their medical capabilities they also provided the following: strong listening skills, proactivity, credibility, patience, a great bedside manner and the ability to make us feel valuable.
We are home now and on to something new. Until next time....more thoughts to ponder.